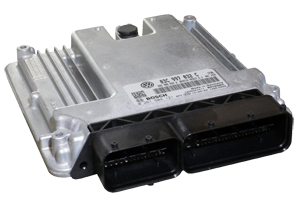 ME17.9 HYUNDAI / KIA ECM CLONING SERVICE
THIS IS A SERVICE NOT A PHYSICAL PART.  WE CAN SUPPLY YOU WITH THE PHYSICAL PART AT AN ADDITIONAL COST.  PLEASE SEE OUR INVENTORY OR CONTACT US WITH YOUR NEEDS IF YOU DO NOT CURRENTLY HAVE A REPLACEMENT COMPUTER.  
WE CAN DO THE FOLLOWING:
ME17.9.11
ME17.9.11.1
MEG17.9.13 

MEG17.9.12 

MED17.9.8
THIS IS A SERVICE FOR TAKING YOUR COMPUTER, WHICH MAY BE EXPERIENCING SOME TYPE OF COMPONENT FAILURE AND CLONING IT ONTO A REPLACEMENT COMPUTER.  THIS SERVICE IS ALSO GREAT IF YOU WISH TO TUNE YOUR VEHICLE BUT WISH TO KEEP A FACTORY COMPUTER ON STANDBY AS A BACKUP OR FOR TRIPS TO THE DEALERSHIP.  
THE REPLACEMENT COMPUTER WILL BE PLUG AND PLAY.  THERE WILL BE NO NEED TO HAVE ANY ADDITIONAL RELEARNS DONE ON THE VEHICLE.  THIS MEANS NO NEED TO RELEARN KEYS, CRANK VARIATION, MILEAGE, OIL LIFE, PEDAL POSITION, THEY ARE ALL TAKEN CARE OF DURING THE CLONING PROCESS.  THE REST OF THE MODULES ON THE VEHICLE WILL NOT KNOW THE DIFFERENCE BETWEEN YOUR OLD COMPUTER AND THE REPLACEMENT THAT YOU WILL BE INSTALLING.  


INSTRUCTIONS:
1. PURCHASE THE SERVICE FROM US AND COMPLETE PAYMENT.  AFTER PURCHASE YOU WILL HAVE AN ORDER NUMBER.  PLEASE SEND A PRINTOUT OF THE EMAIL SENT TO US OR INCLUDE YOUR ORDER NUMBER ON A WRITTEN PIECE OF PAPER WITH ALL OF YOUR CONTACT INFORMATION.  THIS LETS US KNOW WHEN YOU SEND US THE COMPUTER THAT IT IS YOURS AND LETS US MATCH IT UP WITH YOUR ORDER.  IF THERE ARE ANY ADDITIONAL MODIFICATIONS THAT YOU WISH TO HAVE DONE TO THE COMPUTER PLEASE INCLUDE THEM IN THE NOTES AT CHECKOUT AS WELL AS IN THE BOX WHEN YOU SEND THE COMPUTER TO US.  
2. BOX UP THE COMPUTER (PACK IT WELL)  ALONG WITH YOUR INFORMATION MENTIONED IN STEP 1 AND SEND IT TO THE FOLLOWING ADDRESS. 
GARRETT TUNING
18221 State Route 58
Wellington OH 44090
3. WE WILL SEND THE COMPUTER BACK TO YOU, READY TO INSTALL
THERE ARE NO RETURNS OR REFUNDS ON THIS SERVICE ONCE IT IS PURCHASED.